MicroFluere® Powered by Microfluidics
Total test time under 1 hr. using pre-coated MicroFluere®
Reduced reagent and sample volume – 20 µL vs. 100 µL
Dynamic range >103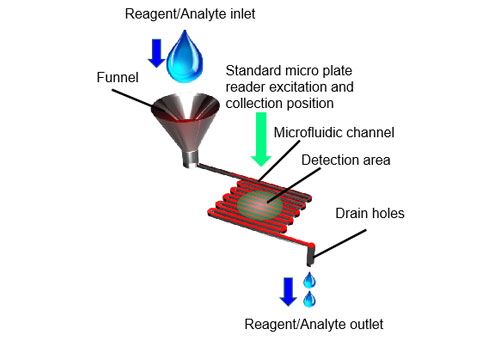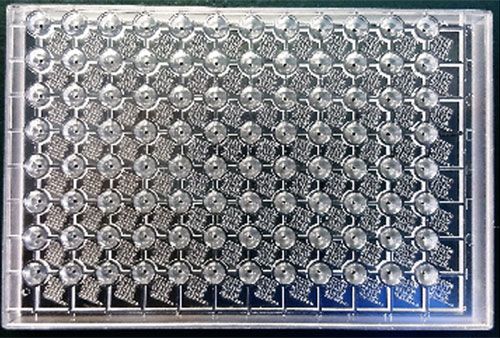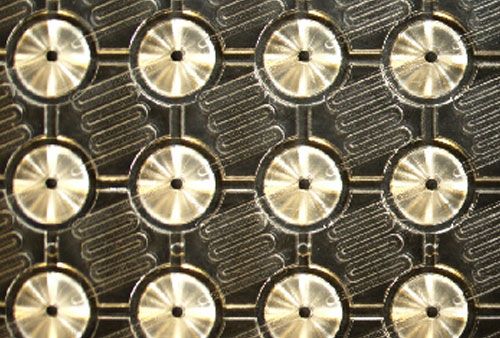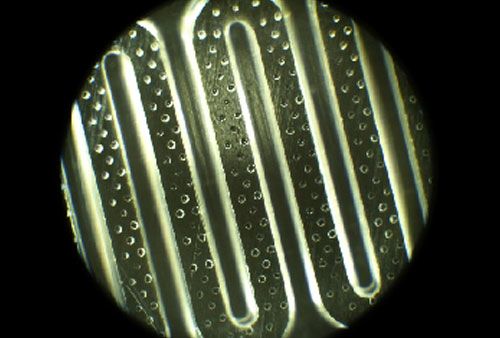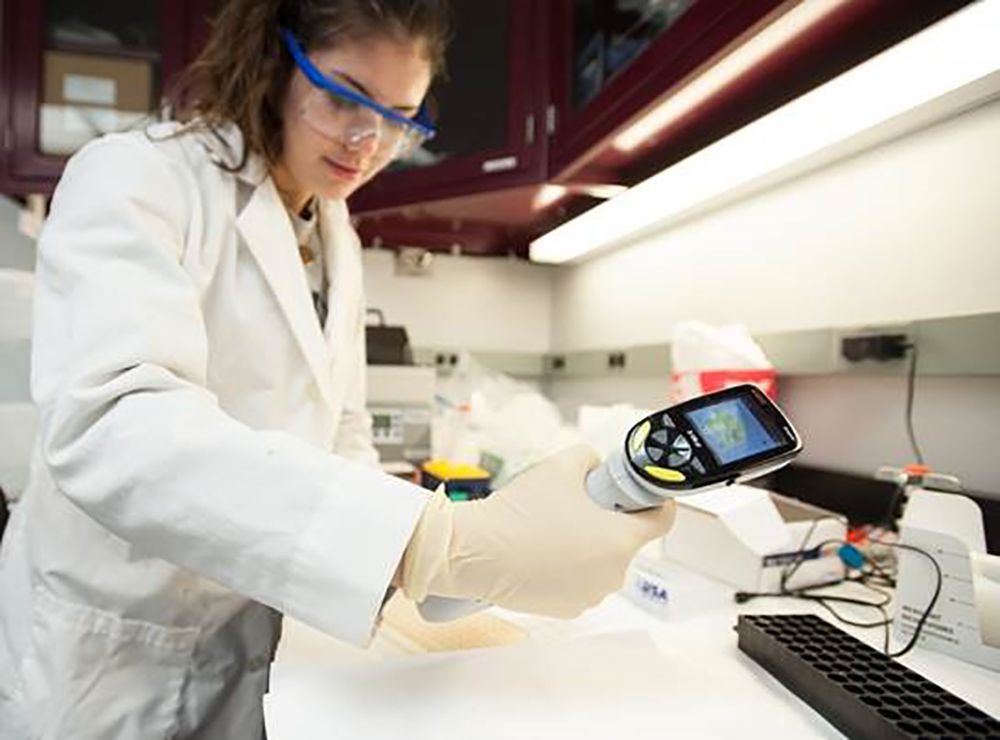 MicroFluere ® plate has 96 microfluidic units arranged in the same ANSI compliant format as a traditional 96-well plate.
Compatible with existing 96-well processing equipment and readers
Each microfluidic unit has a liquid inlet, an optically clear detection channel containing micro-posts, and a liquid outlet. In the microfluidic unit, samples and reagents flow from a funnel-shaped structure through a micro-post array embedded microfluidic channel.
The liquid can be withdrawn from an opening outlet using a wicking method or pressure differential. The optical signal is acquired at the center of the microfluidic loop located at the standard plate reader optical excitation/collection position. Since the inlet and outlet are offset from the detection area, there is no interference to the optical signal caused by sample/reagent residuals at the inlet (i.e., funnel-shaped structure) or the outlet.
In the looped microfluidic channel, an array of optically-transparent micro-posts are arranged in a symmetric pattern. The micro-posts extend perpendicularly from the top of the channel. The micro-posts are equally distributed throughout the entire detection area, and each micro-post has a generally cylindrical shape. The unique arrangement of the channel and the micro-posts within each microfluidic unit assures consistent optical measurements even in the presence of as large as 1 mm positive or negative lateral shift of the plate in the horizontal (X- axis) and/or vertical (Y-axis) direction with respect to the optical detection center. The results show that CVs (coefficient of variations) due to both X and Y movements are less than 5% (note: the plate reader itself may already cause 5% variation in optical signal reading).
10730044, Assay Plate and Uses Thereof, 10730044 (issued in 2020)
62657834, Differential Pressure Assisted Drainage System (pending)
PCT/US20/52631, Microfluidic structure for bio-assay using absorption or colorimetric methods (pending)
63/001,366, Methods for enzyme-linked immunosorbent assay (ELISA) using microfluidic plate (pending)
US 2019/0383750 A1, OPTOFLUIDIC DIAGNOSTICS SYSTEM (pending)
Two additional patent applications (to be submitted)
Our Publications in Express ELISA
X. Tan et al., "Rapid Mouse Follicle Stimulating Hormone Quantification and Estrus Cycle Analysis Using an Automated Microfluidic Chemiluminescent ELISA System," ACS Sens. 3, 2327-2334 (2018).
X. Tan et al., "Multiparameter Urine Analysis for Quantitative Bladder Cancer Surveillance of Orthotopic Xenografted Mice," Lab Chip 20, 634-646 (2020).
W. Xue et al., "Rapid and sensitive detection of drugs of abuse in sweat by multiplexed capillary based immuno-biosensors," Analyst 145, 1346-1354 (2020).
X. Tan et al., "Rapid and quantitative detection of SARS-CoV-2 specific IgG for convalescent serum evaluation," Biosensors and Bioelectronics 169, 112572 (2020)
X. Tan et al., "Quantification and Immunoprofiling of Bladder Cancer Cell-Derived Extracellular Vesicles with Microfluidic Chemiluminescent ELISA," (to be submitted)